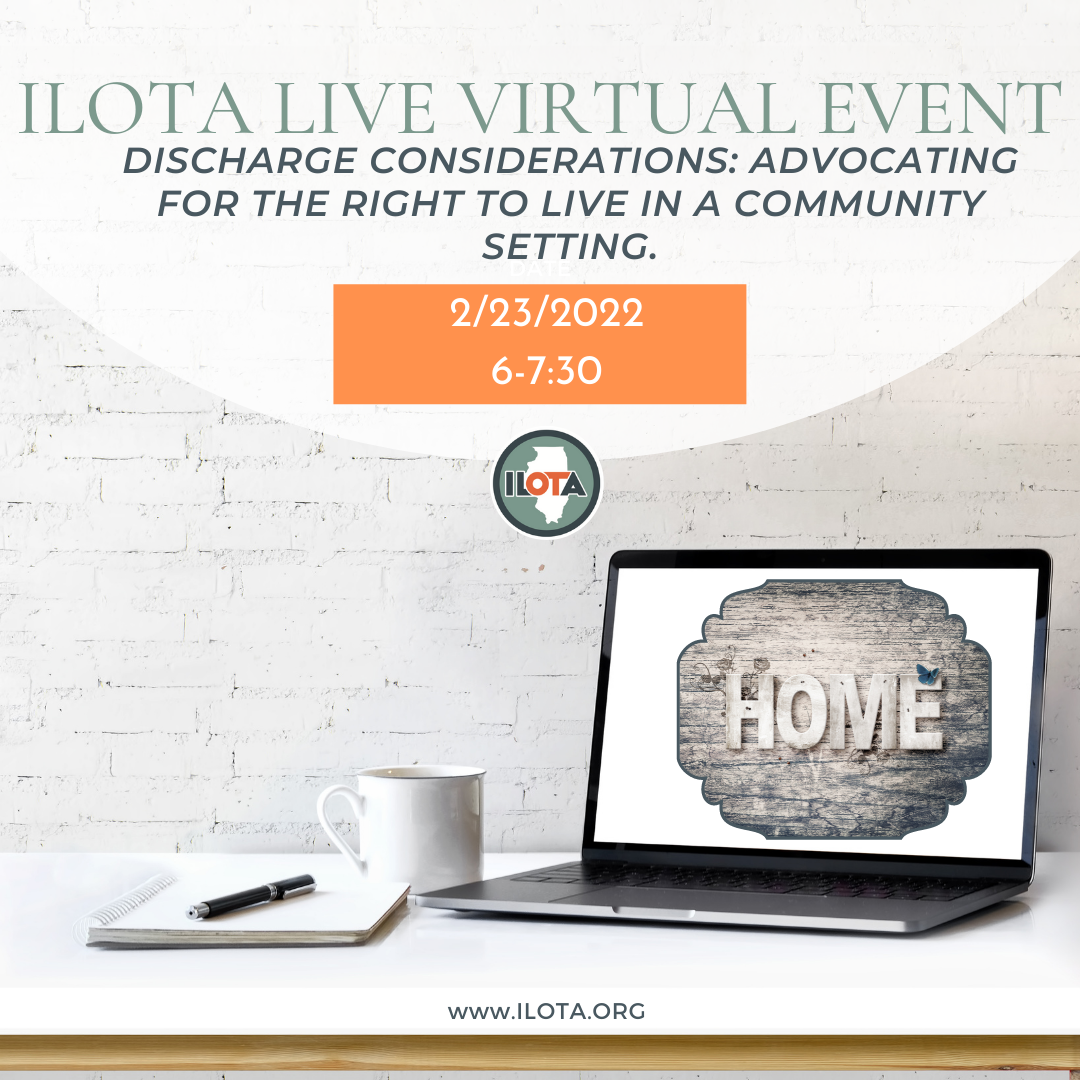 ILOTA Live Virtual Event: "Discharge Considerations: Advocating for the Right to Live in a Community Setting"
Wednesday, February 23, 2022
6:00 pm - 7:30 pm
Registration Fees: Members $25 - Non-members $50
(Not a member? Join here and register at the lower rate!)
Sponsored by the ILOTA Home & Community Health Special Interest Section (SIS).
This course has been approved for 1.5 contact hours of CE credit.
Description:
The aim of this presentation is to provide a critical examination of patient discharges to long-term care settings, as well as to educate practitioners about a community transition program funded by the state of Illinois: the Comprehensive Class Member Transition Program (CCMTP). The CCMTP facilitates the transition of residents living in long-term care facilities to the least restrictive community setting, while connecting them with local resources to support continuity of care. The information presented in this course will prepare occupational therapists in acute care, inpatient rehab, and subacute settings to collaborate and support this program in its overall goal of supporting an individual's right to live in a community setting.
Presenters:
Annie Wagner, OTD, OTR/L
Avery Schneider, OTD, OTR/L
Hannah Mulhausen, OTD, OTR/L
Jocelynn Carey, OTD, OTR/L
Registration Fees: Members $25 - Non-members $50
(This course has been approved for 1.5 contact hours of CE credit. The Zoom meeting link will be emailed to all confirmed registrants prior to the event.)